SOA Patterns > Inventory Centralization Patterns > Policy Centralization
Policy Centralization
(Erl)
How can policies be normalized and consistently enforced across multiple services?

Problem
Policies that apply to multiple services can introduce redundancy and inconsistency within service logic and contracts.
Solution
Global or domain-specific policies can be isolated and applied to multiple services.
Application
Up-front analysis effort specific to defining and establishing reusable policies is recommended, and an appropriate policy enforcement framework is required.
Impacts
Policy frameworks can introduce performance overhead and may impose dependencies on proprietary technologies. There is also the risk of conflict between centralized and service-specific policies.
Architecture
Inventory, Service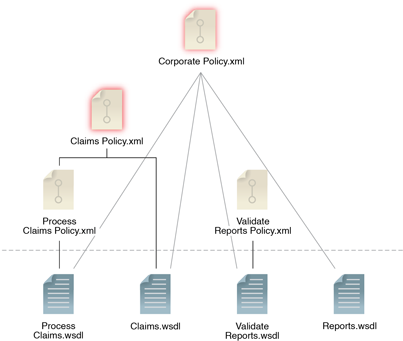 A global policy definition (Corporate Policy.xml) is established and applies to all WSDL documents, and a further domain policy (Claims Policy.xml) is created and linked to two WSDL definitions. This new policy structure eliminates redundancy of policy content and ensures consistent policy enforcement.