SOA Patterns > Compound Patterns > Service Broker
Service Broker
(Little, Rischbeck, Simon)
Co-existent application of Data Model Transformation, Data Format Transformation, and Protocol Bridging.
Although all of the Service Broker patterns are used only out of necessity, establishing an environment capable of handling the three most common transformation requirements can add a great deal of flexibility to a service-oriented architecture implementation, and also has the added bonus of being able to perform more than one transformation function at the same time.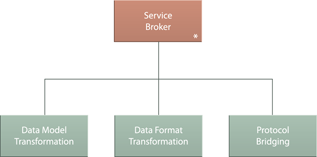 Service Broker is comprised of the co-existent application of Data Format Transformation, Data Model Transformation, Protocol Bridging.
Related Patterns in Other Catalogs
Broker (Buschmann, Henney, Schmidt, Meunier, Rohnert, Sommerland, Stal)
Related Service-Oriented Computing Goals
Increased Intrinsic Interoperability, Increased Vendor Diversification Options, Reduced IT Burden