SOA Patterns > Basics > SOA Project Fundamentals > Organizational Roles > Cloud Resource Administrator
Cloud Resource Administrator
A Cloud Resource Administrator is responsible for administering a cloud service and other types of cloud-based IT resources. This role is proficient with cloud computing technologies and mechanisms and will typically begin its involvement with the initial deployment of a service and then assume the responsibility of maintaining a cloud service implementation in relation to its surrounding cloud-based infrastructure and resources.
A primary concern of the Cloud Resource Administrator is the tuning of on-demand scalability and pay-per-usage mechanisms offered by the cloud environment. In third-party cloud platforms, there may be a variety of options for dynamic scaling and access to shared and virtualized IT resources. Some of these options may have billing implications, while others may introduce performance or behavioral factors.
Besides being dedicated to cloud-based administration requirements, this role is further distinguished from the Service Administrator role in relation to the role's affiliation. A Cloud Resource Administrator can be (or belong to) the organization acting as the consumer or client of a public cloud, or the organization that owns and provides the public cloud.
For example:
An cloud consumer organization may deploy a service on a public cloud and then assign its own Cloud Resource Administrator to administer that service.
A cloud provider organization may make a cloud service publically available on a pay-per-usage basis and will therefore have its own Cloud Resource Administrator administer that service. This type of cloud service (which would be categorized as a Software-as-a-Service offering) could then be used as part of a service composition developed by the cloud consumer organization.
Also worth noting is that Cloud Resource Administrators can be (or belong to) a third-party organization contracted to administer the cloud-based service or IT resource. For example, a Cloud Service Owner could outsource administration responsibilities to a Cloud Resource Administrator to administer its cloud service.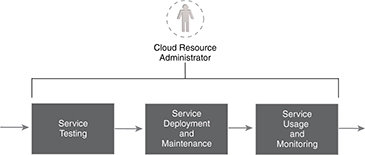 Figure 1 – As with the Service Administrator, this role is generally involved from Service Testing through to Service Usage and Monitoring stages.
The reason this role is not named Cloud Service Administrator is because this it may be responsible for administering cloud-based IT resources that don't exist as cloud services. For example, if the Cloud Resource Administrator belongs to (or is contracted by) the cloud provider organization, IT resources not made remotely accessible may be administered by this role (and these types of IT resources are not classified as cloud services). Figure 2 illustrates this in relation to the Cloud X and Service A scenario from the Cloud Service Owner page, Figure 1.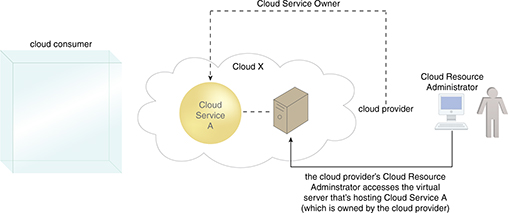 Figure 2 – While Cloud Service A may be accessible to external cloud consumers, the cloud provider that acts as the Cloud Service Owner can have a Cloud Resource Administrator configure the underlying virtual server that hosts Cloud Service A.
NOTE
In the previous example, the virtual server is considered an IT resource.