SOA Patterns > Basics > SOA Project Fundamentals > Organizational Roles > SOA Quality Assurance Specialist
SOA Quality Assurance Specialist
This role is comparable to the traditional IT quality assurance profession, except that it requires further expertise in ensuring the quality of services – in particular, agnostic services that can be subjected to repeated reuse and composition.
SOA Quality Assurance Specialists are closely associated with the Service Testing stage, during which services can be subjected to various forms of tests either prior to their initial deployment or as part of the release of subsequent service versions.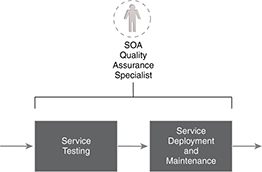 Figure 1 – The SOA Quality Assurance Specialist usually gets involved during the Service Testing stage and can then further be required to ensure that required levels of quality are actually being met during subsequent stages.
NOTE
Several of the governance precepts and processes covered in this book are related to "ensuring the quality" of some aspect of SOA and the delivery of services. Although, SOA Quality Assurance Specialists can be involved in these areas (as described in upcoming chapters), these types of quality assurances tasks are primarily associated with the SOA Governance Specialist role.