Cloud Computing Patterns, Mechanisms > Basics > Cloud Deployment Models > Private Clouds
Private Clouds
A private cloud is owned by a single organization. Private clouds enable an organization to use cloud computing technology as a means of centralizing access to IT resources by different parts, locations, or departments of the organization. When a private cloud exists as a controlled environment, the problems described in the Risks and Challenges section do not tend to apply.
The use of a private cloud can change how organizational and trust boundaries are defined and applied. The actual administration of a private cloud environment may be carried out by internal or outsourced staff.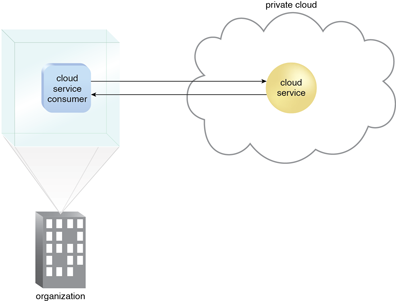 Figure 1 – A cloud service consumer in the organization's on-premise environment accesses a cloud service hosted on the same organization's private cloud via a virtual private network.
With a private cloud, the same organization is technically both the cloud consumer and cloud provider (Figure 1). In order to differentiate these roles:
a separate organizational department typically assumes the responsibility for provisioning the cloud (and therefore assumes the cloud provider role)
departments requiring access to the private cloud assume the cloud consumer role
It is important to use the terms "on-premise" and "cloud-based" correctly within the context of a private cloud. Even though the private cloud may physically reside on the organization's premises, IT resources it hosts are still considered "cloud-based" as long as they are made remotely accessible to cloud consumers. IT resources hosted outside of the private cloud by the departments acting as cloud consumers are therefore considered "on-premise" in relation to the private cloud-based IT resources.