SOA Patterns > Legacy Encapsulation Patterns > Legacy Wrapper
Legacy Wrapper
(Erl, Roy)
How can wrapper services with non-standard contracts be prevented from spreading indirect consumer-to-implementation coupling?

Problem
Wrapper services required to encapsulate legacy logic are often forced to introduce a non-standard service contract with high technology coupling requirements, resulting in a proliferation of implementation coupling throughout all service consumer programs.
Solution
The non-standard wrapper service can be replaced by or further wrapped with a standardized service contract that extracts, encapsulates, and possibly eliminates legacy technical details from the contract.
Application
A custom service contract and required service logic need to be developed to represent the proprietary legacy interface.
Impacts
The introduction of an additional service adds a layer of processing and associated performance overhead.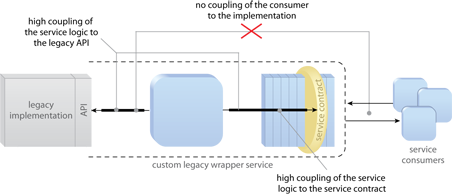 Tight coupling of the service logic to both the legacy API and the service contract alleviates service consumers from implementation coupling.