SOA Patterns > Basics > What is SOA > Goals and Benefits of Service-Oriented Computing > Overview
Overview
It is very important to establish why both vendor and end-user communities within the IT industry are going through the trouble of adopting the service-oriented computing platform and embracing all of the change that comes with it. 
The vision behind service-oriented computing is extremely ambitious and therefore also very attractive to any organization interested in truly improving the effectiveness of its IT enterprise. A set of common goals and benefits has emerged to form this vision. These establish a target state for an enterprise that successfully adopts service-orientation.
The upcoming set of sections describe each of these strategic goals and benefits: 
It is beneficial to understand the significance of these goals and benefits prior to studying and applying service-orientation so that design principles are consistently viewed within a strategic context. An important message of this Web site (and the SOA: Principles of Service Design book) is that there is a concrete link between successfully applying service-orientation design principles and successfully attaining these specific goals and benefits.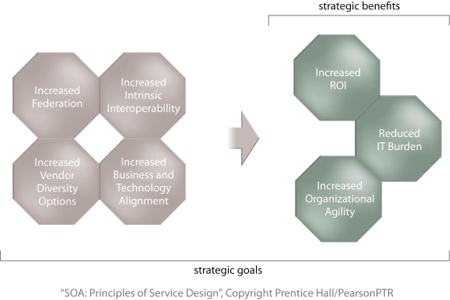 Figure 1 – The seven identified goals are inter-related and can be further categorized into two groups: strategic goals and resulting benefits. Increased organization agility, increased ROI, and reduced IT burden are concrete benefits resulting from the attainment of the remaining four goals.
Note that as previously mentioned, the term "SOA" has been used so much in the media and within marketing literature that it has become synonymous with what the entire service-oriented computing platform represents. Therefore, the goals and benefits listed here are frequently associated with SOA as well.