SOA Patterns > Basics > What is SOA > Service-Oriented Computing in the Real World > Service Inventory Blueprints
Service Inventory Blueprints
An ultimate goal of an SOA transition effort is to produce a collection of standardized services that comprise a service inventory. The inventory can be structured into layers according to the service models used, but it is the application of the service-orientation paradigm to all services that positions them as valuable IT assets in full alignment with the strategic goals associated with the SOA project.
However, before any services are actually built, it is desirable to establish a conceptual blueprint of all the planned services for a given inventory. This perspective is documented in the service inventory blueprint.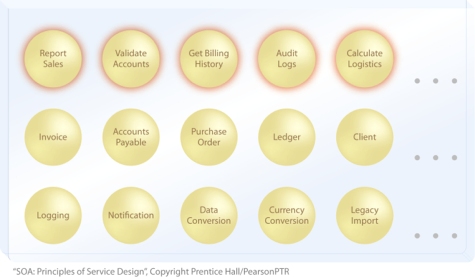 Figure 1 – A conceptualized service inventory wherein services are organized into logical layers according to their service models.
There are several common business and data models that, if they exist within an organization, can provide valuable input for this specification. Examples include business entity models, logical data models, canonical data and message models, ontologies, and other information architecture models.
A service inventory blueprint is also known as a service enterprise model or aservice inventory model.