SOA Patterns > Foundational Service Patterns > Non-Agnostic Context
Non-Agnostic Context
(Erl)
How can single-purpose service logic be positioned as an effective enterprise resource?

Problem
Non-agnostic logic that is not service-oriented can inhibit the effectiveness of service compositions that utilize agnostic services.
Solution
Non-agnostic solution logic suitable for service encapsulation can be located within services that reside as official members of a service inventory.
Application
A single-purpose functional service context is defined.
Impacts
Although they are not expected to provide reuse potential, nonagnostic services are still subject to the rigor of serviceorientation.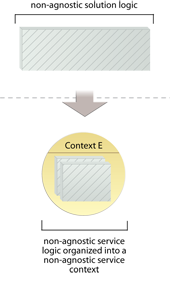 The non-agnostic service logic is encapsulated within a service based on a correspondingly non-agnostic service context (E).
Related Patterns in This Catalog
Related Patterns in Other Catalogs
Related Service-Oriented Computing Goals
Related Publications