SOA Patterns > Basics > SOA Project Fundamentals > Organizational Roles > Service Registry Custodian
Service Registry Custodian
The Service Registry Custodian is tasked with the overall administration of one or more service registries. This goes beyond the installation and maintenance of the registry product; it encompasses the constant responsibility of ensuring a high quality of registry record content, which ties directly into how discoverability-related meta information is defined and recorded for individual services.
A service registry custodian needs to ensure that once a service registry is introduced into an IT enterprise, it is consistently maintained to avoid becoming stale or inaccurate. Although service registry custodians will typically not author discoverability content themselves, they will often own standards or conventions that dictate the nature of metadata used to populate service registry profile records.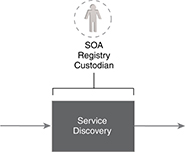 Figure 1 – This role is focused almost exclusively in the Service Discovery stage. It is further affected when new versions of a service or service contract impact what is recorded in the service registry (which, in turn, eventually affects the Service Discovery stage again).